2021 Photography Contest
Get your best photos ready for the annual Cuyahoga Valley National Park Photography Contest! We accept digital entries only. Entries will be accepted from Tuesday October 1 to midnight Sunday October 31.
Awards will be presented on Wednesday, November 17, 2021, via Zoom. The slideshow of all the entries will start about 6:45 and the Awards Program will begin at 7:00 p.m. Please email cvpsphotos@gmail.com if you would like to attend to Zoom Awards Program.
All entries must be submitted by email to CVPSContest@gmail.com as attachments.

Each photographer may submit up to four photos and more than one photo may be entered in any category.
Submissions will be accepted from CVPS members only as a benefit of your membership. If you are not now a member but are interested in participating, please go to https://www.conservancyforcvnp.org/join/cuyahoga-valley-photographic-society/ to join the Conservancy and the Photo Society.

Visit our gallery page to see winners and other entries for contests from 2007 to 2020.
CATEGORIES:
Landscape – photos in this category depict multiple environmental elements which might include different plants, rocks and earth, water, and often part of the sky (or where the sky would be). Examples would include a sunrise or sunset, a waterfall, a lake or slowly moving river with surrounding foliage, a marsh, or a hillside.
Wildlife – photos in this category depict wild birds, mammals, reptiles, and amphibians. These photos might include either single animals or multiple animals in the shot. Most insects will fall into the Close-up category but may be included here.
Hand of man – photos that include people and structures made by people. Whenever the key feature of a photo includes humans, bridges, boardwalks, roads, trains, or buildings, etc. this is the best category. A close up of a human-made item could be submitted here or in the close-up category.
Close-up – photos in this category portray a small part of the environment and traditional "macro" photography. Examples include single or very limited numbers of plants and flowers, as well as insects. A photo whose major feature is a rock, a tree trunk, one patch of flowers, a few colored leaves, or several rocks in a stream would be examples. A bee on a flower or a photo of a single branch of a tree reflect examples of this category. Animal portraits that are not insects would best be represented in the Wildlife category.
Black & White/Monochrome images may be submitted in any category.
PLEASE NOTE: All images must reflect the subject matter in a realistic way. Digital darkroom techniques may be used to optimize the image so that it still closely resembles the real scene (e.g., minor adjustments to color; contrast, or sharpness; cropping; removal of dust spots; realistic use of HDR; and black and white conversion).

AWARDS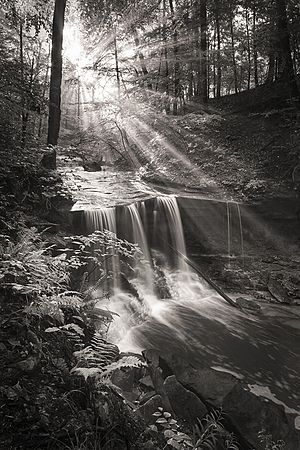 Note: The judges will, at their discretion, determine whether third-place prize will be awarded, depending on number of entires and other factors.
• First place for each category: $100 gift card
• Second place for each category: $50 gift card
• Third place for each category: $25 gift card
• Tim Thomas Award for Best of Show: $200 gift card
CONTEST RULES AND REQUIREMENTS
Please read all requirements before submitting your photos.
• Entries must have been photographed any local, state or national park, wildlife refuge/preserve or national forest in the United States.
• Entries that have won in previous Cuyahoga Valley National Park photography contests are ineligible.
• A maximum of 4 entries will be accepted per photographer (more than one photo may be entered per category).
• All entrants must submit images as email attachments to cvpscontest@gmail.com, using "CVPS Photo Contest Submission" in the subject line. Download your entry form here! If your browser does not support filling in forms (most don't), open the form in Adobe Acrobat Reader or other pdf reader software. Fill it out then save it to your hard drive. Include a copy with your images when you submit them!
• The photographer's name, phone number, Conservancy member number and email address must be included in the email. If you are not using the entry form, please also include a list of the photographs identified by contest category, file name, title and park location where shot.
Image requirements:

File format must be .jpg and sRGB color space

Image size must be a maximum of 1920 pixels on the longest side

EXIF (or IPTC/XMP) data must include the photographers name in the "Author" field and the image title in the "Title" field

Rename your files so the file name is the same as the title of the photo (abbreviate if needed). Example - if your title is "Blue Hen Falls" your file name should be bluehenfalls.jpg.


DO NOT include the photographer's name, initials or personally identifiable information in the file name
• If you need instructions for resizing and renaming your photos, click here! There are instructions for Lightroom, Photoshop and On1.
• The Photo Society reserves the right to:
▪ Decline entries if any of the requirements are not met;
▪ Reclassify an entry deemed to be inappropriate for the category entered or better suited for a different one;
▪ Combine categories where there are insufficient entries.
• By submitting a photograph to the CVPS Photo Contest, you affirm that you are the photographer and that the photograph was taken within a park location as specified above.
• All digital files must be submitted to cvpscontest@gmail.com by midnight October 31, 2021.
By entering photos in the contest, you are granting to the Cuyahoga Valley Photographic Society and the Conservancy for the Cuyahoga Valley National Park a non-exclusive license to use those photos to promote the Contest and the Photo Society, including but not limited to posting them on the CVPS web site and Facebook page, and to project them during the Contest awards ceremony.
If you have questions regarding the CVPS Photo contest, please email cvpscontest@gmail.com. We look forward to seeing your images.